Meet Our Trainers
[ Go Back ]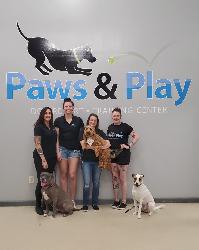 Brittany Haseman - CPDT-KA, CGC Evaluator, PetPro Hero CPR/First Aid Instructor
Brittany is one of our senior trainers working with your pups from their time of foundational obedience, advanced obedience, those who need a little extra attention and finding a job. With most of her educational background rooted in animal science and psychology, she has a special place in her heart for so many dogs with varying challenges. Brittany will be your instructor in all Basic Skills classes on Tuesdays, Thursdays and Saturdays. She will be introducing you to many of your beyond the basics skills and helping you learn more about the science behind why we train the way we do and all the enrichment guidance you will need for your dogs to remain happy and healthy. If your dog has more specialized needs or a better understanding of how to interpret and communicate with the world, other dogs and people, you can join her in Wednesday evenings Calming Your Canine class.
Brittany has been with Paws and Play for several years and is trained in multiple departments to give her the best opportunity to help you with any questions or concerns you may have while we care for your pup. She has earned many certifications such as her Certified Professional Dog Trainer-Knowledge Assessed, Canine Good Citizen Evaluator, and Pro PetHero Canine and Feline First Aid and CPR Instructor. She will also be instructing our Canine and Feline First Aid and CPR workshops for those who are interested in earing their own First Aid and CPR certifications. Her demo dog Deja will join to help in those workshops as her certified Pro PetHero Safety Dog, as she has also earned this certification and Canine Good Citizen certifications. They both look forward to playing and learning with you!
Mica Riedner - CPDT-KA, CGC Evaluator, PetPro Hero CPR/First Aid Certified
Mica is our puppy development guru and emotional support trainer here at Paws and Play. If you've ever stared lovingly into your puppies' eyes and wondered how they can cause such destruction and happiness at the same time, Mica will be there for you to offer you fun and effective ways of communicating with your dog. With more than a decade's worth of experience with puppy development, therapy, emotional support and behavioral modifications she can be a shining beacon of hope for your foundational needs and excelled goals.
When you are thinking of how to best set your puppy up for educational and social successes don't miss out on signing up for Mica's AKC Puppy S.T.A.R. classes Monday and Thursday evenings. She will be guiding you and your dogs through all their basic skills, loose leash walking with the best of them and getting to know your puppy better than anyone else. These will be the foundational steps that keep them always moving forward in life and meeting social expectations in the healthiest manner.
Mica is one of our senior dog trainers with certifications including CPDT-KA Dog Trainer, Pro PetHero Canine and Feline First Aid and CPR, and an AKC Canine Good Citizen Evaluator. She is looking forward to guiding you in setting your dog up for success and helping you build the healthiest relationship with your dog. Mica will also be joined by her AKC Advanced Canine Good Citizen, Zeke during each of your classes. Zeke is an emotional support and therapy dog for Mica who will be working in class to help you and your puppies reach all your AKC Puppy S.T.A.R. goals!
Taylor Campbell - CGC Evaluator, PetPro Hero CPR/First Aid Certified
Taylor is a cheery and exciting young trainer here on our Paws and Play team and she is bringing in some extra fun training techniques to keep your rambunctious dogs enriched. With an excelled interest and talent for tricks and games she will lead your younger and older dogs to setting foundational goals on the agility course as well as helping temper any unappealing habits with a better option through learning and playing. She has been in a leadership position for several years with us in Lodging and now her talent with caring for and understanding your dogs has led her to the training side of their care.
Taylor will be your puppy development instructor in Saturday morning AKC Puppy S.T.A.R. classes so do not miss out on all the fun! As she is leading these new, impressionable puppies forward she continues to progress in her own professional path already earning certifications as an AKC Canine Good Citizen Evaluator and in Pro PetHero Canine and Feline First Aid and CPR. While she is encouraging forward progress with your dogs, she is also continuing with her own demo dog Kevin CGC. Kevin will be joining Taylor in each AKC Puppy S.T.A.R. class and help guide your pups in becoming AKC Puppy S.T.A.R.'s!
Jackie Linehan - PetPro Hero CPR/First Aid Certified
Jackie is one of the newest additions to our Paws and Play team but her and her pup Pippa have been part of the Paws and play family for years! She and Pippa have been long time customers of Paws and Play and grew to love our facility so much they joined our working family as well. She is an excellent foundational obedience trainer and lover of all dogs. Jackie has spent nearly a decade as a volunteer with the Humane Society for Hamilton County. Further proving her love for these precious animals, she lovingly welcomed two rescue Maine Coons, Avery and Loki into her own home. Jackie is fun and professional to work with and you will have no concerns putting your dog's future training in her very qualified and caring hands. Jackie has not only been working toward her own training educational progressions, already earning her Canine Good Citizen Evaluator Certification, but her own demo dog Pippa is now a Canine Good Citizen as well!
They cannot wait to meet you and your dog!