Meet Our Trainers
[ Go Back ]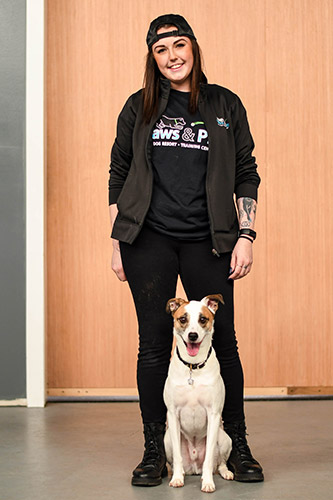 Taylor Campbell - CPDT-KA, CTDI, AKC Evaluator, Fear Free Certified, PetProHero CPR & First Aid Certified
Taylor is an exciting trainer with a special interest in Tricks and Agility. Her passion is helping you and your pups learn through a variety of fun and exciting exercises.

Taylor began her journey with us in 2017 working and playing with the dogs that were here for Day Care or Lodging and through lots of education and hard work, she has since become one of our senior trainers. She has come to enjoy teaching as much as she does playing!

She holds the titles of CPDT-KA and AKC CGC Evaluator along with being a Certified Canine Conditioning Fitness Coach, Stunt Dog Judge, and Trick Dog Instructor through Do More With Your Dog!
With an interest in behavior and science, she will be able to help with a wide variety of dogs whether they are fun, energetic, senior, out-of-shape, or just outright anxious, she will be able to give plenty of guidance and find the right exercise and program for you!
She works closely alongside her favorite coworker, Kevin, who is her demo dog and best pal. With a handful of titles of his own, he is an important tool in Taylor's toolbox to help her dogs reach their full potential.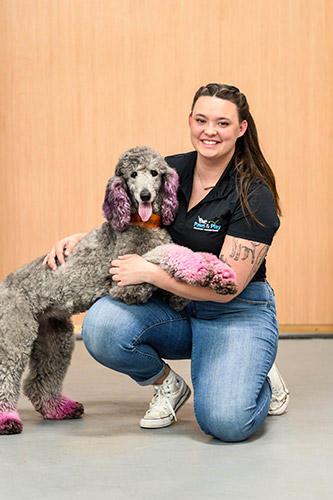 Taylor Summitt - CPDT-KA, AKC Evaluator, Fear Free Certified, PetProHero CPR & First Aid Certified
Taylor is our Training Manager. Not only is she an active part of the training team - whether she's working with a puppy just beginning its training journey or an older dog looking to learn some new tricks - she also oversees the training department and makes sure that each dog leaves achieving their goals. If you have any questions or concerns about your training, you will likely talk to her. She loves dogs, but she is first and foremost a people person.
She started with the Paws and Play team in 2017 as a Lead Reservation Specialist where she created meaningful relationships with our clients and their dogs. Now that she has rejoined the team, she looks forward to seeing old friends and making new ones.
Taylor has a passion for understanding how dogs learn and how their genetics and instincts affect their learning as well as staying up to date with the latest research surrounding training methods. She enjoys being an advocate for dogs and their owners, regardless of background or experience level, and believes that training is only ethical and effective if you customize it to each individual dog.
Along with teaching the basics, helping your dog learn house manners, and problem-solving behavioral problems, she will be educating clients about ways to keep their dogs enriched, how to read their body language, and helping the average dog owner to see the world through a trainer's eyes to create the best possible bond with their dog.
Taylor is a Certified Professional Dog Trainer - Knowledge Assessed through the CCPDT, a Certified Trick Dog Instructor through Do More With Your Dog!, is First Aid and CPR certified, and is also an AKC Evaluator. She has experience training Service Dogs, pet dogs, and the occasional TV commercial star.
In her free time, she enjoys reading, bird watching, and roller skating. Her demo dog, Legacy, will be her sidekick most days. She is a "career change" dog who was just a little too friendly to be a Service Dog, but that won't stop her from helping clients learn about their dogs!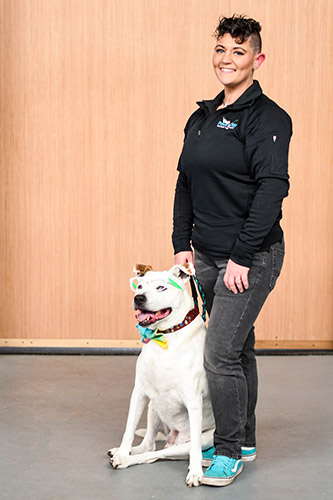 Lindsey Chimento-Meister
Lindsey is our newest trainer and has been working with dogs since 2009 when she began volunteering at a local shelter to learn more about dogs who had not found their home yet.
She became a full-time employee at the shelter in 2011 and began helping teach basic manners to the shelter residents to improve their chances at adoption. Through this opportunity, she found her best friend, Wilbur, and this is where her passion for training stems from. While raising and training him she discovered how much she loved the training side of the dog industry.
In 2014, she began taking on her own clients, offering in-home lessons to teach basic skills. Lindsey brings a lot of experience to the Paws & Play team and enjoys helping owners learn alongside their dogs to make a meaningful bond!