Meet Our Trainers
[ Go Back ]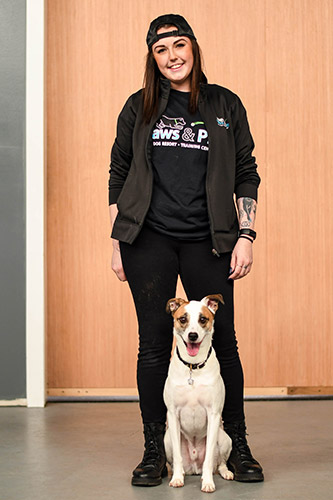 Taylor Campbell - CPDT-KA, CTDI, AKC Evaluator, Fear Free Certified, PetProHero CPR & First Aid Certified
Taylor is an exciting trainer with a special interest in Tricks and Agility. Her passion is helping you and your pups learn through a variety of fun and exciting exercises.

Taylor began her journey with us in 2017 working and playing with the dogs that were here for Day Care or Lodging and through lots of education and hard work, she has since become one of our senior trainers. She has come to enjoy teaching as much as she does playing!

She holds the titles of CPDT-KA and AKC CGC Evaluator along with being a Certified Canine Conditioning Fitness Coach, Stunt Dog Judge, and Trick Dog Instructor through Do More With Your Dog!
With an interest in behavior and science, she will be able to help with a wide variety of dogs whether they are fun, energetic, senior, out-of-shape, or just outright anxious, she will be able to give plenty of guidance and find the right exercise and program for you!
She works closely alongside her favorite coworker, Kevin, who is her demo dog and best pal. With a handful of titles of his own, he is an important tool in Taylor's toolbox to help her dogs reach their full potential.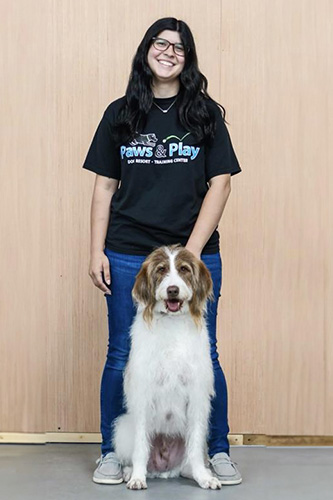 Morgan Thomas - AKC CGC Evaluator
Morgan is our newest trainer at Paws & Play. She has been part of our Lodging team since 2022 and after completing an apprenticeships with our senior trainers, she is now taking clients of her own!
With an equestrian background as an international barrel racer and performance horse trainer, she is also a long-time participant in 4-H, earning the 4-H Grand Champion titles in Obedience, Showmanship, and Agility in 2019. She shows all four of her dogs, Ollie, Remy, Punch, and Rita in AKC Obedience and Sports and has additional experience in showmanship and conformation. Her favorite dog sport is the AKC Fast CATs! In her free time, she works her dogs, horses, and even pigs (who know a trick or two themselves).
Morgan has been a CGC Evaluator since January of 2023 and is specializing currently in puppy basic skills and cannot wait to meet you and help you reach your training goals!